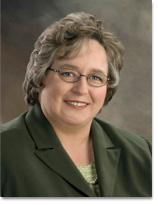 Terri Kohler - Office Manager
Ms. Kohler has more than 24 years of legal experience. In 2008, she took early retirement from the United States Department of Justice after a 20-year career. Her experience includes holding the position of Criminal Division Support Staff Manager for the United States Attorney's office, Northern District of Georgia, which entailed supervising approximately 30 legal assistants and docketing technicians. During her legal career, Ms. Kohler also worked as an assistant for a United States District Court Judge for the Northern District of Georgia, as a case administrator for the United States Bankruptcy Court in Atlanta, and as a collections clerk for the Internal Revenue Service.
In 2007, Ms. Kohler was awarded the United States Department of Justice's Director's Award, the highest honor in the Department, for her Outstanding Performance as a Member of an Administrative Team for developing, and then assisting in the creation and implementation of, a grand jury and trial subpoena database used by United States Attorney Offices. Ms. Kohler also was the recipient of the 1997 Federal Employee of the Year Award, for her work in developing a system of automation for various legal forms.
Ms. Kohler received her Paralegal Certificate in 2002.